Yellowstone
NEW UPDATE: Everything We Know So Far About Yellowstone Season 5
The Western hit will wrap up its ranching drama later this year.
After months of speculation, we finally have an answer about Yellowstone's future—but it may not be the ones that fans were hoping for. Paramount has announced that the show will conclude after the second half of season five—which is now set to debut in November, pending the resolution of the writers guild strike and the potential strike of the actor's guild.
The news came just days after an ET report that Kevin Costner would not be returning to the show after season five. Since then, there has been a great deal of speculation as to whether the star would make a
n appearance in the upcoming, now-final episodes of the series—concern about which has been further fueled by new legal documents filed by the actor in his ongoing divorce proceedings with Christine Baumgartner. In the documents, obtained by Insider, Costner reportedly writes, "I will earn substantially less in 2023 than I did in 2022. This is because I am no longer under contract for 'Yellowstone,' the principal source of my income last year."
While this news doesn't preclude the possibility of Costner joining the show for its final episodes, the fact that the actor is no longer under contract means that his presence is no longer guaranteed.
In May, sources close to the production reportedly told Puck that Costner will not confirm his return for Yellowstone's final episodes "until he finds out and is comfortable with," how his character, John Dutton, is being written off. The first few episodes of the second half of season five, Puck says, have been written to allow for the possibility of Costner appearing, as well as the possibility that he will not be involved.
The publication also reported that Costner was not informed ahead of the announcement that the show would be ending.
Here's what we know so far about Yellowstone season five.
Is this the last season?
It's now official—Yellowstone not will get a sixth season. However, along with the announcement that the series is ending, the network did reveal that an as-yet-untitled Yellowstone sequel will debut in December, presumably to replace the original show's timeslot. The show will premiere on Paramount Network, and later stream through Paramount+, according to the announcement. Whether or not this sequel will be the previously confirmed Matthew McConaughey vehicle, or an entirely separate show, is not yet clear.
"Yellowstone has been the cornerstone on which we have launched an entire universe of global hits – from 1883 to Tulsa King, and I am confident our Yellowstone sequel will be another big hit, thanks to the brilliant creative mind of Taylor Sheridan and our incredible casts who bring these shows to life," said said Chris McCarthy, President & CEO Showtime/MTV Entertainment Studios in an announcement about the series.
The announcement of show's ending was the culmination of several tense months of speculation about the show's future. In early February, Deadline reported on rumors that Yellowstone might be ending, writing, "The crux of the issue with the original Yellowstone series involves star Kevin Costner and disagreements over shooting schedules. We are told Paramount Network has declined Costner's most recent proposal and instead has made the decision to move on to the other show, sources said."
Paramount's only comment at the time seemingly denied the claims, saying, "We have no news to report. Kevin Costner is a big part of Yellowstone and we hope that's the case for a long time to come. Thanks to the brilliant mind of Taylor Sheridan, we are always working on franchise expansions of this incredible world he has built. Matthew McConaughey is a phenomenal talent with whom we'd love to partner.
However, in late March, Paramount Media Networks head Chris McCarthy did confirm that McConaughey will be joining the Yellowstone-verse, starring in a new spin-off, which the exec said will go ahead regardless of whether Costner returns to Yellowstone or not. "[Yellowstone] wouldn't be what it is today without Kevin and we hope that that stays for a long time to come," he added.
When will season five return?
The first half of the fifth season of Yellowstone debuted in November of 2022 and wrapped up with a mid-season finale on January 1, 2023, with the promise of six more episodes to come this summer to round out the show's super-sized, fourteen episode fifth season. In an interview with The Hollywood Reporter in June 2023, Sheridan said the final half of season five will possibly have ten episodes—making season five a total of eighteen episodes. "If I think it takes 10 episodes to wrap it up, they'll give me 10," Sheridan said. "It'll be as long as it needs to be."
Paramount originally confirmed that the show will be returning some time in the summer of 2023, however, in the latest announcement, the network updated its plans, stating that the show's final episodes will in fact appear in November, though the exact date has not been revealed. As the ongoing WGA strike continues and a strike of SAG-AFTRA, the screen actor's guild, looms, even those dates are beginning to seem questionable.
Fans first became concerned when a scheduled panel at PaleyFest in March evidently revealed that the second half of season five had not yet even begun filming. Per Variety's Emily Longeretta, "No update for part 2 of #Yellowstone season 5. The cast has not yet started filming or been given a start date."
No update for part 2 of #Yellowstone season 5. The cast has not yet started filming or been given a start date. #PaleyFest

— Emily Longeretta (@emilylongeretta) April 2, 2023
In April executive producer Stephen Kay, who has also directed for the show, indicated during a Deadline's Contenders Television panel that filming was still not underway, saying, "Taylor is in Texas spinning hay into gold and we're hoping we're hoping we'll do it soon. Everybody's excited."
What's in store for season five?
In September 2022, actors Cole Hauser (Rip), Kelly Reilly (Beth), and Luke Grimes (Kayce) gave Entertainment Weekly a few hints about what's in store for the upcoming season. As one might expect, it doesn't sound like things will be all smooth sailing for newlyweds Rip and Beth.
"What I like about what [Taylor Sheridan] wrote is that he slow burns this year with me and Beth," Hauser said. "In the beginning, there's some wonderful moments between the two of us, some stuff that she's going through in her past, that she's having to acknowledge for the first time, and me trying to help her through that."
"The war feels internal this year for her," Reilly added, "[She's] haunted by the past, afraid for the future and fighting with all she has for the present moment."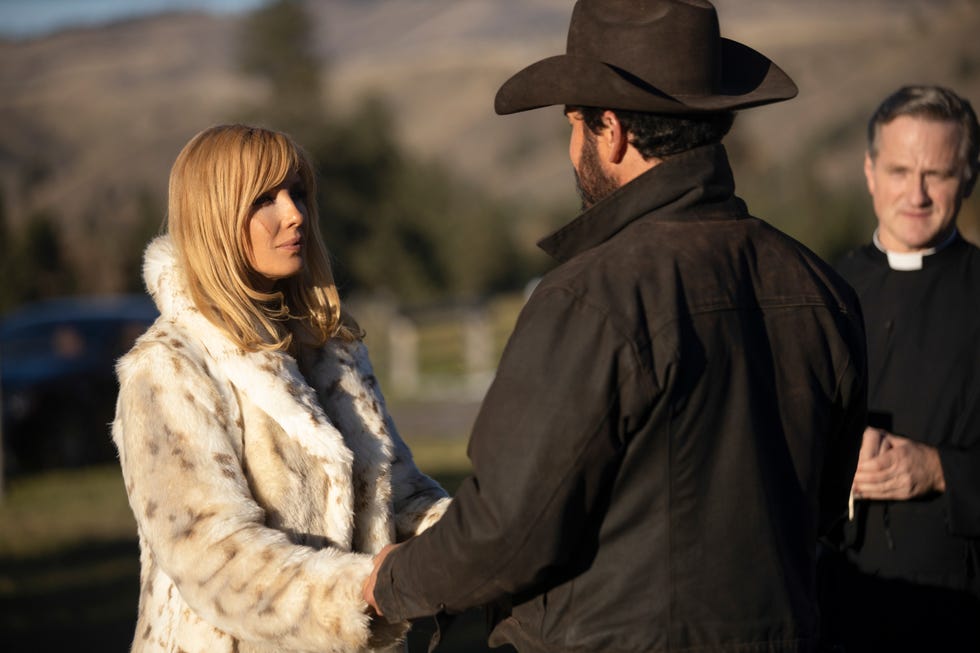 However, it doesn't sound like the couple's in any danger of breaking up. Per Reilly, "Beth has always been devoted to Rip. Marriage does not change her. I think his love for her and hers for him is one of the very few things that keeps her demons at arm's length (mostly)."
As for Kayce, his own struggles don't sound to be abating any time soon following his dramatic vision at the end of season four. "In true Kayce fashion, there's no relief from the sort of rock and a hard place that he's in between," Grimes said.