One of the greatest wrestlers of all time. Way it seems he's becoming an even greater man outside of wrestling. Always loved Steve
"Stone Cold" Steve Austin may be the most beloved wrestler of all time … and look no further why. The WWE legend showed up to a SoCal brewery and hooked up the patrons in a packed bar with free beers to commemorate "Austin 3:16 day!"
Austin hit up El Segundo Brewing Company in Los Angeles County … where bar employees doled out cold beers left and right to fans who came to celebrate the WWE holiday.
Stone Cold Steve Austin giving out beers on Austin 3:16 day like a goddamn champ. pic.twitter.com/LyJ6uO8pm5

— brandon wenerd (@brandonwenerd) March 17, 2023
Check it out … Stone Cold was behind the bar, assisting bartenders as they poured beers, toasting fans as his signature theme music was blaring in the background.
And, they weren't handing out just any ol' beers … the brewery serves his own signature "Broken Skull IPA." After everyone was served, Austin was naturally thirsty himself, so he chugged a pint glass, too.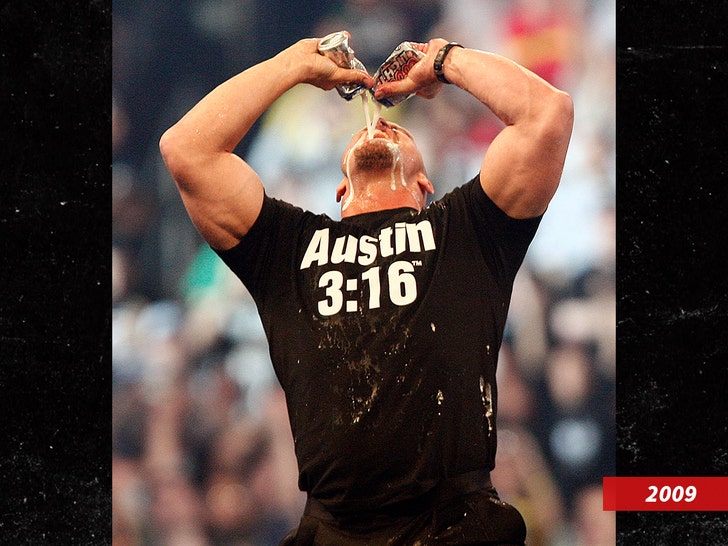 Of course, the "Austin 3:16" tagline came to be after Steve defeated Jake "The Snake" Roberts to win the "King of the Ring" tournament in 1996.
After his match, Steve mocked Roberts' Bible-preacher gimmick … saying, "You sit there and you thump your Bible, and you say your prayers, and it didn't get you anywhere!"
"Talk about your psalms, talk about John 3:16 … Austin 3:16 says I just whipped your ass!"
The promo was a defining moment in his career, and the Texas Rattlesnake became one of the most popular faces of WWE's "Attitude Era," widely considered one of the best times in sports entertainment history.
Give me a Hell Yeah!!!!!!!!!!!