Chrisley Knows Best fans heard that Nanny Faye, the mom of Todd and Julie Chrisley suffers from cancer of the bladder. In fact, the reason they hoped for home detention is because of that, apart from the kids, Chloe and Grayson. Well, as they aren't around, it seems that Chase Chrisley went with his grandmother for her tests and scans. Now, an update came out about the results.
Chrisley Knows Best – Nanny Faye Isn't In A Good Place
With Todd in prison in Florida and Julie in a federal facility in Kentucky, Nanny Faye allegedly took a turn for the worse in terms of her mental health. Word arrived that she possibly suffers from separation depression. Actually, nobody seemed surprised by the news. After all, Todd and Julie ran a close-knit family. And, it must be very difficult for the older lady. In fact, USA Network fans love her and they bleed inside for her.
Chrisley Knows Best fans hoped that Nanny Fay would cheer up a bit after she visited Todd Chrisley at the Pensacola facility. Linsdie Chrisley took her for the visitation and reportedly, it was a sudden decision made on the spur of the moment. Well, we're sure that Todd has probably heard from her via email or other means of communication that she saw medical professionals about her cancer. So, what was the result? Is she going to be okay?
Chrisley Knows Best – Nanny Faye Is 'Cancer Free'
On Saturday, February 5, Tuff Topic shared a post on Instagram that showed Chase Chrisley with his grandma in a medical place. Both of them wore their masks and in the background was a health poster. The caption said, "Todd Chrisley's Mom "Nanny Faye" is cancer free! That's a piece of good news for Todd to keep his spirits high!💪💯🙏.:"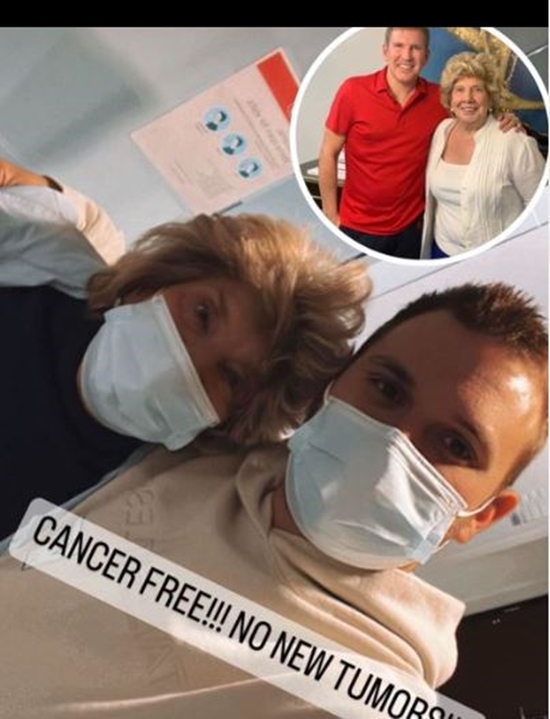 Chrisley Knows Best fans were thrilled to hear that she had "no new tumors." But that won't stop them from continuing to hold her in their prayers. One follower wrote, "Yay super happy to hear that nanny Faye. Still will continue to send prayers for you anyway."
Meanwhile, another Christian follower said, "Such great news ❤️ thank you Jesus God is faithful. Love you, Nanny Faye 🙏💜❤🩷 God bless you all sending our love n prayers for your whole family."
Chrisley Knows Best – Congrats Pour In
Chrisley Knows Best fans sent in plenty of comments containing their congratulations. Actually, it's definitely good news. Certainly, the family could use some good news while they fight for an appeal for their mom and dad. Hopefully, Nanny Faye stays strong and healthy because it would be tragic if she never sees her son and daughter-in-law out of prison.
Be sure to catch up on everything happening with the former Chrisley Knows Best star right now. Come back here often for all Chrisley Knows Best news and updates.